1 – Mobile learning in the EFL-classroom. A quick overview.
Mobile devices and their applications are not cutting-edge technology anymore. They are part of our everyday lives. The number of edtech websites, printed and digital materials has drastically risen, many of them on the language learning/teaching landscape, promising a rich and versatile learning experience (cf Hirsh-Pasek et al., 2015).
Mobile devices, such as smartphones or tablets can be considered as "cross-technologies platforms" for all domains of life, based on an "always-in-touch" approach (Heinemann & Gaiser, 2016, p. 64). Even though mobile phones have become an omnipresent companion in many cultural and societal contexts, critics often draw apocalyptic scenarios concerning smartphone use and EFL, such as learners have turned into "smombies" (a blend for smartphone zombies) constantly staring at their screens. Change, technological innovation and/or methodological transformation often creates fear among teachers. Douglas Adams' tries to identify the roots or reasons of human mankind's general fear of technology:
everything that's already in the world when you're born is just normal;
anything that gets invented between then and before you turn thirty is incredibly exciting and creative and with any luck you can make a career out of it;
anything that gets invented after you're thirty is against the natural order of things and the beginning of the end of civilization as we know it until it's been around for about ten years when it gradually turns out to be alright really. (Adams, 1999)
One can argue that "what makes technology as frightening as it is exciting is that it is so unknown" (Jarvis, 2011, p. 68). What we do know is that the mobile device is an essential part in the lives of many young learners. Information, such as language prompts, lexical items, grammatical phenomena, etc. are stored, archived and curated within a mobile context, on the go, also outside the classroom. Mobile learning within an EFL context is not just the use of the smartphone in the actual classroom or the mere sharing of artefacts, but also the active and productive curation, adaptation, modification or creation of new products (e.g. mindmaps, video production, collages on the go, etc.), also outside the classroom. Language professionals should realise that the use of apps and mobile devices for language learning/teaching purposes has to be ubiquitous and seamless (i.e. smooth/seamless integration of technology in the classroom with no distinction between formal and informal or individual or social learning) (Gruber, Cooper, & Voigt, 2012, p. 3). The aim of seamless language learning with mobile technology is:
Put into simple terms: seamless learning can be seen as the act of "learning wherever, whenever and whatever" (Chan, Roschelle, His, Sharples, & Brown, 2006, p. 4). One approach (Toh, So, Seow, Chen, & Looi, 2013, p. 303) of how mobile learning works in the foreign language classroom can be:
Planned learning in class: e.g. Vocabulary app is used in the EFL-classroom for a reading/writing activity.
Planned learning out of class: e.g. EFL students use their smartphones and note app to take pictures in the museum on a field trip and lexically annotate the images within the note-taking app.
Emergent learning out of class: e.g. EFL student uses his smartphone to watch YouTube videos in English about his hobby (e.g. playing Fortnight) and implicitly learns the language (lexical items, idioms, jargon, etc.).
Emergent learning in class: e.g. Student takes picture of whiteboard, handouts, etc. and sends it to ill student colleague via messaging app.
2 – Good Practice – go mobile with edu apps
In this activity the teacher and the students will be using video cameras or the video function of their smartphones to produce recordings.
Activity name: Ode to my home town
Application/Function: video camera smartphone
Focus:
• producing a tourist video about the place you live or hometown
• presenting factual information using the present simple and vocabulary for life in the city/the countryside
Level: elementary – upper-intermediate
Age: primary to upper secondary level
Time: 50 minutes in the classroom, rest at home
ICT skills: handling the basic functions of your smartphone
Equipment: smartphone, internet access, tourist factsheet, tourist video
Preparation
In advance of the lesson, find a promotional video about a particular city, town or area. For example, you could use the one about Vienna at http://bit.ly/2sbltuJ (without commentary) or http://bit.ly/2r0R1jO (with commentary). Also prepare a tourist factsheet for the students to fill in, with items such as sights and places of interest, travel tips and information about public transport, special events, accomodation, culture and sports.
In Class
Ask your students what they like about the place they live. Put their ideas on the board.
Now tell them that they are going to watch a promotional video about a particular place.
Play the video and elicit their responses.
Tell the class that they are each going to produce their own video about their hometown. They will need to research facts about their hometown which would be useful for tourists, and they will have to write a commentary which includes this information and describes the things that they intend to show. Give them your 'tourist factsheet' to fill in.
Allow time in class for planning, but the students will do the rest of the work at home.
Follow-up
Tell the students to do the necessary research and the filming at home, taking photos and recording video clips of sights, special places, etc.
Instruct them to edit their video using an app from the App gallery section below, and to send the videos to you or upload them to a class blog, etc.
Allow class time for the students to watch and enjoy each other's videos, and give feedback on their linguistic performance, editing skills, etc.
Follow-up
Tell the students to do the necessary research and the filming at home, taking photos and recording video clips of sights, special places, etc.
Instruct them to edit their video using an app from the App gallery section below, and to send the videos to you or upload them to a class blog, etc.
Allow class time for the students to watch and enjoy each other's videos, and give feedback on their linguistic performance, editing skills, etc.
Variation – Promo abroad
If the students are studying abroad or not in their hometown, they could produce a promotional video for the place thy are actually staying in now.
Top Tip
The students can get royalty-free sound effects and background audio from Freesound
App gallery
Apple
Android

PowerDirector for Android
KineMaster
Quik
The extra bit
Use Vienna as an example to teach students useful language for this genre of video:
Vienna is the capital of Austria with about 1,8 million inhabitants. It is in the eastern part of Austria. This vivid city is well-known for its marvellous sights and great cuisine. Every year, hundreds of thousands of tourists come to Vienna to experience the vibrant atmosphere of the city.
Conclusion
Smartphones and their built-in functions, as well as mobile applications, can act as discursive, collaborative and ubiquitous forms of media within a certain methodological framework (cf. good practice example above). Mobile devices are not supposed to be an extra value for the ELT lesson, they should be an integral part of a modern, communicative and blended EFL-lesson where performance and discourse does not only take place in the classroom but also in an informal context on the go (on the bus, at home, etc.). It has never been the aim of mobile technology to replace the language teacher. The main focus of mobile technology-enhanced language learning/teaching is on how language learning can take place on a multisensory level inside and outside the classroom. Furthermore, it can be stated that the integral and methodologically-coherent use of digital technology supports joy, fun and enthusiasm (Kremnitz, 2008, p. 62; Schmidt & Strasser, 2018; Strasser, 2014a, 2014b; Tanzmeister, 2008, p. 17) where the teacher acts as an extrinsic motivator.
Suggestions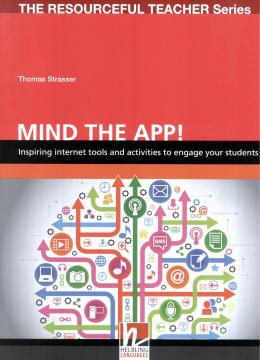 Mind the App! is an exciting and innovative resource book which introduces teachers and their students to some of the most useful and interesting web applications for language teaching and learning. Mind the App! covers a wide variety of applications such as Wordle, Animoto, TodaysMeet, Voicethread, Prezi and Learning Apps, all of which are presented in clearly explained step-by-step sequences using screenshots. Each application includes a variety of activities to stimulate students' interest and to help them understand how the applications work and how best they can be used.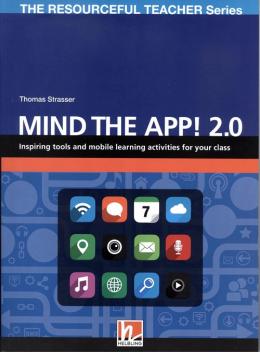 One of the secrets of teaching a foreign language succeddfully lies in balancing routine classroom work with innovative and creative activities and techniques. This new series offers teachers, teacher trainers and teacher trainees a discussion of ewdevelopments in various areas, such as linguistics, pedagogy and cognitive psychology, and shows them practical ways of using key findings in these areas to enrich their own teaching.
References
ADAMS, D. (1999). How to Stop Worrying and Learn to Love the Internet. The Sunday Times.
CHAN, T.-W., ROSCHELLE, J., HIS, S., SHARPLES, M., & BROWN, T. (2006). One-to-one technology-enhanced learning An opportunity for global research collaboration. Res. Practice Tech. Enhanced Learn., (01), 3–29.
GRUBER, M., COOPER, A., & VOIGT, C. (2012). Seamless lerning (U‑Learn). Retrieved from http://www.learningfrontiers.eu/?q=content/seamless‑learning‑u‑learn
HEINEMANN, G., & GAISER, C. W. (2016). SoLoMo ‑ Always‑on im Handel: Die soziale, lokale und mobile Zukunft des Omnichannel‑Shopping. Wiesbaden: Springer VS.
HIRSH‑PASEK, K., ZOSH, J. M., GOLINKOFF, R. M., GRAY, J. H., ROBB, M. B., & KAUFMAN, J. (2015). Putting Education in "Educational" Apps: Lessons From the Science of Learning. Psychological Science in the Public Interest, 16(1), 3–34. https://doi.org/10.1177/1529100615569721
JARVIS, J. (2011). Public parts: how sharing in the digital age improves the way we work and live (1st Simon & Schuster hardcover ed). New York, NY: Simon & Schuster.
KREMNITZ, G. (2008). Didaktik: Möglichkeiten und Grenzen. Einige unmaßgebliche Einwendungen aus den hinteren Rängen. In R. Tanzmeister (Ed.), Lehren ‑ Lernen ‑ Motivation. Fachdidaktik für Romanistinnen und Romanisten. (pp. 53–62). Vienna: Praesens.
SCHMIDT, T., & STRASSER, T. (2018). Media‑Assisted Foreign Language Learning—Concepts and Functions. In C. Surkamp & B. Viebrock (Eds.), Teaching English as a Foreign Language. (pp. 211–231). Stuttgart: Metzler.
STRASSER, T. (2014a). Digital technologies in modern foreign language teaching and learning. In N. Pachler (Ed.), Teaching foreign languages in the secondary school – a practical guide. (pp. 94–110). London: Routledge.
STRASSER, T. (2014b). Quick 'n Dirty – The Use of Internet Tools in the EFL-lesson. Revista New Routes, 5, 14–18.
STRASSER, T., & GRELLER, W. (2015). Towards immersive digital language learning. In M. Ebner & K. Erenli (Eds.), Immersive Education: 4th European Summit, EiED 2014 Vienna, Austria, Revised Selected Papers: Communications in Computer and Information Science. (pp. 52–61). Heidelberg, New York: Springer.
TANZMEISTER, R. (2008). Lehren – Lernen – Motivation. Zu Grundfragen der Fremdsprachendidaktik und Lehrerbildung. In R. Tanzmeister (Ed.), Lehren – Lernen – Motivation. Fachdidaktik für Romanistinnen und Romanisten. (pp. 15–52). Vienna: Praesens.
TOH, Y., SO, H.-J., SEOW, P., CHEN, W., & LOOI, C.-K. (2013). Seamless learning in the mobile age: a theoretical and methodological discussion on using cooperative inquiry to study digital kids on-the-move. Learning, Media and Technology, Volume 38 (Issue 3). Retrieved from https://www.tandfonline.com/doi/full/10.1080/17439884.2012.666250?scroll=top&needAccess=true


The Author
Dr. Thomas Strasser is Professor of language methodology and technology-enhanced learning and teaching at the University College of Teacher Education Vienna. Language teacher, teacher trainer, ELT author, international speaker (>30 countries).
Thomas Strasser is an international reviewer (European Commission – Horizon2020, TESOL International, EUROCALL journal, and many more renowned academic journals) and academic counselor for various international universities and the Goethe Institut especially in the field of (language) learning and digital technologies.
His numeorus publications include the practical resource books Mind The APP! Inspiring internet tools and activities to engage your students (2012), Mind The APP! 2.0. Inspiring tools and mobile learning activities for your class (2018), course books like TOP Spot (2016) and over 40 scientific publications (Springer, Routledge, etc.). Thomas is a member of the Fulbright Committee for the Foreign Language Teaching Assistantship Programme. Thomas worked as a guest professor and researcher at the Leuphana University in Lüneburg (mobile-assisted language learning/game-based language learning).