The Non-Native Teacher by Péter Medgyes was first published in 1994 by Macmillan. This third edition, published in 2017 by Swan Communication, comprises much of the original content with a couple of updates based on the last 25 years of development in the field and commentary of focus points, questions, and further reading. This book provides key insights into the native English speaker teacher (NEST) / non-native English speaker teacher (NNEST) conundrum, on what being a NNEST is, on the 'advantages' and 'disadvantages' of NNESTs, the dilemmas of nativespeakerism, and strategies for development.
As a NNEST myself, this book served as an opportunity to feel heard, understood and accurately represented. It is a thorough analysis of what it means to be a native or non-native speaker and teacher whilst problematizing the terms themselves. After all, drawing the line of what being a native speaker means is no easy task.
The book is divided into six sections, each focusing on a different aspect of the conundrum. Part I: being a non-native speaker sets the issue for the central topic of discussion, also showing how English has become the main means of international communication. In addition, it brings an interesting problematization of the idea of 'standard' English, and the mind-puzzling question "Is the native speaker really dead?" to which I still have no satisfactory answer.
Part II: being a non-native teacher focuses on the two-way street that is teaching. Part III: the two sides of the coin outlines the dark and the bright side of being a NNEST. In this section of the book, Péter puts the NNESTs' linguistic deficit as part of the dark side of being a NNEST. In my opinion, this eternal journey through interlanguage is, in fact, enticing. He explains that "To achieve native‑like proficiency is wishful thinking", but one should wonder, why would a bilingual teacher feel the need to sound like a native. Shouldn't bilingualism and international communicative competence be on higher regard than nativelikeness? This is, in my opinion, the best section of the book. Péter describes six characteristics of NNESTs which are assets in class. Among these, he mentions the ability NNESTs have of anticipating and preventing language difficulties in monolingual classes.
In Part IV: dilemmas and solutions, the author addresses nativespeakerism in more detail. He opens the chapter with the question "Who would you employ?". A fiery question which could easily burst into an incandescent discussion in any teachers' rooms. Part V: being a non-native teacher-learner delves into the perpetuity of the learner characteristic of a NNEST, and strategies for development. Part VI: subsequent research projects will provide teachers with studies and further reading.
I would highly recommend this book to NESTs and NNESTs alike. I believe the only way we can tackle misinformation is with high quality information from reputable sources and this book clearly excels at it. To all my bilingual teacher colleagues, this book is a must read, with an honorable mention to Chapter 6, which explores the advantages of being a non-native.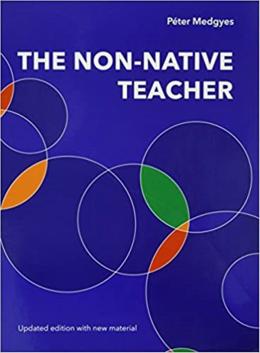 This updated edition adds new material to the original text and presents the content in a format that invites thinking, discussion and further reading. The aim is to be thought-provoking and to encourage the reader/user to relate the content to their own personal experience and teaching context. User focus: – Individual teachers and teacher trainers. – Decision makers (including those running language institutes). – Participants in training and CPD courses, as a focus for discussion.
THE REVIEWER Bruno Albuquerque. In ELT since 2012 with experience in teaching students of all ages and all proficiency levels. Educational consultant at Troika, Vice-president of BRAZ-TESOL São Paulo, and presenter in ELT conferences in Brazil. B.A in Letras Português/Inglês, he holds a CELTA, the Troika Trainers Certificate, and the ECPE. In ELT as a teacher, trainer, speaker, materials writer and editor.