Presentations
GROUPWORK Brainstorm reasons why people give talks, presentations or speeches.
to inform
PAIRWORK Discuss these questions
• Have you ever given a talk? If so, what was it like? How did you feel?
• What are the most common problems people have when they give talks?
VOCABULARY: PRESENTATION AIDS
PAIRWORK How are these things used in talks and presentations?
• screen • whiteboard • flipchart • laser pointer • projector • handouts • slides • internet connection • wireless microphone • marker pens • microphone •
Read the Presentation tips. Choose the ones that you find most surprising/the most useful /least helpful
Presentation tips
PLANNING
Think about what your talk is for and who your audience is. Is it to sell your ideas, train, inform or just entertain?
Brainstorm all your ideas, then select the main points.
Create a title for your talk. It will help focus your mind.
Make your message easy to remember. Use an acronym or slogan, quotes, slides, photos, objects, music or sound effects.
PREPARING
Structure your talk. Organise your points in a logical order.
Prepare your slides. Don't use too much text, and use at least 18pt type size.
Don't write your talk out. You won't communicate with the audience if you read out a prepared text.
Prepare short clear notes that remind you of your key points on small cards.
REHEARSING
Rehearse your talk in front of classmates or in front of the mirror.
Rehearsal is very important. You will see where you need to adjust the talk.
If you rehearse, you will seem more relaxed and natural on the day.
Don't memorise your talk. It won't be as interesting to the audience.
GIVING THE TALK
Arrive early and set up your equipment.
Speak clearly, without rushing. Don't forget to breathe!
Notice your posture, and stand up straight.
Build rapport with your audience.
Make eye contact with members of the audience.
Use body language, such as hand and arm movements, to reinforce points.
Talk to the and not to the screen!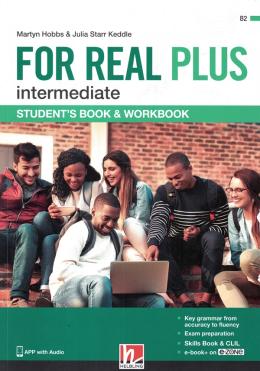 Based on the successful For Real series, revised and updated, For Real Plus is the course to equip your students for the 21st Century. Motivating, up-to-date themes to get students thinking and talking. Fresh, easy to use design for effective teaching and learning. Authentic communication lessons to get students speaking using natural, everyday language. Thought-provoking graded stories for enjoyable extended reading.