Penguin Readers is a new series of the best contemporary fiction, essential non-fiction and popular classics specially written for learners of English as a foreign language.
Beautifully illustrated and carefully adapted, this graded readers series combines Penguin Random House's internationally bestselling authors and most compelling content with structured language progression.
From Starter (Pre-A1) to Level 7 (B2), Penguin Readers follow the CEFR framework and include language activities that help readers of all ages and abilities to develop key skills.
All titles are supported by online resources including digital books, LEVEL 1 LEVEL 3 Penguin Readers audio, additional exercises and actitivies, as well as a series handbook and introductory videos.
Penguin Readers are published across 8 levels, from Pre-A1 (Starter) to B2 (Level 7), with each corresponding to the Common European Framework of Reference (CEFR) and featuring activity types aligned to international exams including Flyers, PET, KET, FCE, CAE, CPE and TEOFL.
The language used in each reader is strictly controllled with the grammar syllabus and permitted vocabulary correlating to the CEFR, with a small number of new words being allowed in each story which are all explained in a glossary at the back of the book.
With accompanying audio and additional resources to help test comprehension, grammar and vocabulary skills, Penguin Readers not only help to develop reading, writing and listening, but also critical thinking and twentyfirst century skills.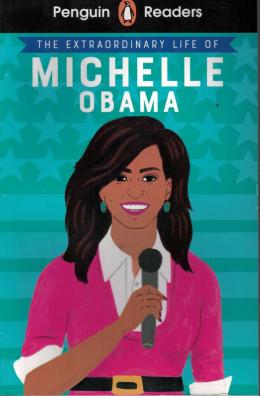 The Extraordinary Life of Michelle Obama, a Level 2 Reader, is A1+ in the CEFR framework. Sentences contain a maximum of two clauses, introducing the future tenses will and going to, present continuous for future meaning, and comparatives and superlatives. It is well supported by illustrations, which appear on most pages.
Michelle Obama was First Lady of the United States. She is also a wife, a mother and a lawyer. But that is not all. She has started many campaigns to help young people and make the world a better place. Michelle Obama has had an extraordinary life.