Product description
Raymond Murphy's English Grammar in Use is the first choice for intermediate (B1-B2) learners and covers all the grammar you will need at this level. This book has clear explanations and practice exercises that have helped millions of people around the world improve their English. It also includes an interactive ebook with audio that you can use online or download to your iPad or Android tablet. It is perfect for self-study and can also be used by teachers as a supplementary book in classrooms.
Product Details
English Grammar in Use Fifth Edition books
Book with answers and interactive ebook with audio. Perfect for anyone who wants all the content of the printed book, and easy access to a digital version for on-the-go learning. The ebook includes interactive exercises and integrated audio to help with listening and pronunciation skills.
Book with answers. The classic print version of the book, ideal for self-study.
Book without answers. The same grammar explanations and practice exercises as found in the 'book with answers' but ideal for classrooms where teachers do not want students to have immediate access to the answers.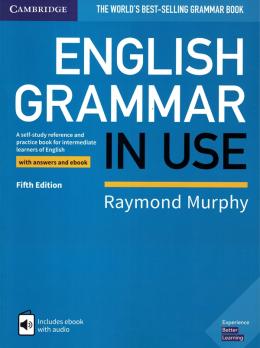 About the author
Raymond Murphy's legendary titles are known and loved the world over, and have given literally millions of students the tools they need to tackle English grammar head-on. Raymond taught English as a foreign language for 17 years in Germany and the UK, but since 1988 has been a full-time writer of ELT materials.
He is the author of the following best-selling Cambridge titles:Essential Grammar in Use, English Grammar in Use, Basic Grammar in Use (US English), Grammar in Use (US English)