We all know that our students love to play games. They think games are fun and they want to have fun all the time. However, games shouldn't be played just for fun or just as a time filler at the end of the class. Games should always have a purpose in the English class. Games are fun, but they should be used to practice grammar, vocabulary, pronunciation, and as a means to encourage speaking, reading, listening, writing and so much more.
This is one the things I love about Jogos Divertidos Para a Sua Aula de Inglês – Volume 3 written by Andreza Lago. All the activities in the book have a purpose, trying to give students the opportunity to learn and use different abilities to help them learn English better.
The title is a little misleading. The book is much more than a collection of games. Sure, there are several games, but there are also activities that can be used as ice‑breakers at the beginning of the class, activities using songs and videos, activities to foster reading and speaking, and phonetic activities to work on the sounds of English. These activities are grouped in the different sections of the book, so it is very easy to find what you are looking for.
Even though it is not just a book of games, all the activities are game‑like, so students can really feel they are playing a game. They will have fun, and they will practice their English. It's a win‑win situation.
All the activities have very clear instructions, including the topic to be worked on, the level of English and the necessary material. The book also has some pages at the end with photocopiable material, ready to be used by the teachers. This is great, because they make it easier to prepare the lessons. Of course, all the activities can be adapted to any level or to any number of students. Even if you teach one‑to‑one lessons, you can use most of the activities in the book.
Everybody knows how important it is to learn English, especially in this globalized world. However, teachers sometimes struggle to find ways to motivate and engage students. We have to encourage students to learn more and to want to learn more. This book will help teachers to maximize learning opportunities for their students.
I was so impressed by the book that I had to buy volumes 1 and 2, which I admit I hadn't read before. If I were you, I would definitely check it out!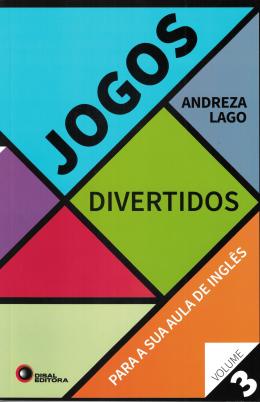 Com mais de 100 atividades direcionadas para o ensino da língua inglesa, este livro trata o aprendizado de forma lúdica personalizada e dinâmica. Distribuídas em oito capítulos as atividades abordam estruturas gramaticais, vocabulário, fonética e expressões do dia a dia. O livro pode ser utilizado tanto para aulas em grupos como individuais. Várias atividades apresentam material fotocopiável.
The reviewer
Carlos Gontow is an English teacher, teacher trainer and writer with 32 years of experience. He's the author of the books The Classroom is a Stage – 40 Short Plays for English Students, 101 Dicas Para Você Aprender Inglês Com Sucesso, Aprenda Inglês Cantando e Aprenda a Cantar em Inglês and Você Consegue Aprender o que Quiser, all published by Disal Editora. He's also the author of the blog "Dicas Para Aprender Inglês" (http://dicasingles.wordpress.com). He has written the series "CNA Kids Plays" for the Kids course of CNA and "Hop Up" for Ensino Fundamental 1 – 1st to 5th grades, published by StandFor. His website is www.carlosgontow.com.br